Welcome to the Malory Towers Wiki
This wiki is about the Malory Towers series by Enid Blyton
Malory Towers is a fictional boarding school for girls in Cornwall. The headmistress is Miss Grayling. There are six years at Malory Towers:
In every form there is a Head Girl and in the Sixth Form there is a Sports Captain and a Head Girl of the whole school. The stories are about a girl called Darrell Rivers and her younger sister Felicity. Felicity joins the school when Darrell's in the Fourth Form. They both join Malory Towers and makes friends, join midnight feasts, plays tricks and jokes and they both become Head Girl when they are in the Sixth Form.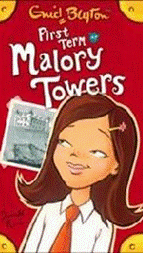 Darrell, the main character, begins her school life ingloriously. Determined to do well and make friends, she falls under the spell of the brilliant but mischievous Alicia Johns, neglecting her schoolwork in favour of fooling around and playing pranks on the staff.
The reader is treated to an early exposition of her violent temper (inherited from her father) when she rescues Mary-Lou, a smaller, weaker girl in her form, who is being held under water by the malicious Gwendoline Mary Lacey, and delivers a stinging rebuke to Gwendoline with the flat of her hand.
She rebuffs Mary-Lou's attempts to make friends, since she believes Mary-Lou to be feeble and unable to stand up for herself, and clashes with fellow new girl Sally Hope, who insists that she is an only child despite written and verbal assurances from Darrell's mother that she has an infant sister. [read more]
Loading RSS data...